​+ CPU: i5-4570 @ 3.20GHz
+ GPU: ROG STRIX-GTX1080-O8G-GAMING
+ RAM: 16 GB DIMM A-DATA DDR3-1600
+ AUX: Creative SB Z + Trust Starzz Mic
+ HS: Razer Chimaera 5.1 Gaming Headset
+ KB: Logitech K310 Washable Keyboard
+ MS: General wireless mouse
+ LCD: Asus MX 23" + trio vista LCD"
+ OS: MS Windows 10 Pro

This channel uses a proprietary virtual facial software called "FaceRig". Click the image if you wanna know more.

/

Kanál využívá speciální zobrazovací software pro simulaci obličeje zvaný "FaceRig". Klikněte na obrázek pro další informace.

Powered by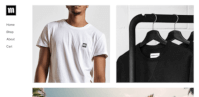 Create your own unique website with customizable templates.